Ever since we first went diving in Thailand, we now tend to gravitate towards places where the diving is known to be wonderful and diverse. We knew that Malaysia had some great reefs and a perfect climate for diving, but we were absolutely amazed with what we saw in our short three dives at the Sipadan Marine Reserve, it was the best holiday! We can't wait to go back!
Up to this point, glimpsing a sea turtle was a rare treat. In Sipidan, we found sea turtles everywhere we looked. Even better, they were particularly comfortable being around divers, affording us opportunities for up close observation.
The busiest dive spot on Sipidan Island must be Barracuda Point. We had heard amazing stories about "Barracuda Tornado's" and we were not disappointed during our own dives to the site. The sheer size of the barracuda schools was enough to leave your mouth hanging open…if one wasn't underwater.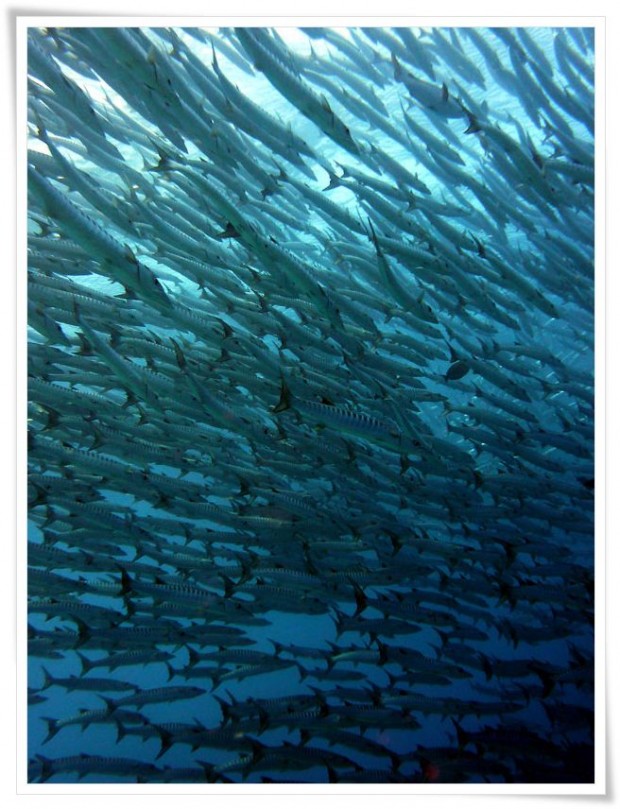 Now, Manali and I have been lucky enough to see the bumphead parrotfish during our dives on The Great Barrier Reef, but we saw one or two at a time. Bumphead's are big fish too, at nearly a meter long. When this big school came upon us, they were in the middle of a coral buffet.
And of course, we always manage to say hello to our little buddies, the clown fish.