If you have not hiked one of New Zealand's Great Walks, the full experience of what this country has to offer has probably escaped you. The tramping opportunities, as the kiwis call it, are endless and provide a unique experience we have found nowhere else on our travels.
The Great Walks running through Fiordland and the Southern Alps (Milford, Kepler and Routeburn tracks) are particularly majestic and are capable of providing oneself with a sense of accomplishment difficult to describe, yet sure to be etched into your own personal list of "I did it's". In short, it would be regretful to climb an arduous mountain, only to gaze at the peak 30 feet below as you turn back to make your return. Climb, crawl, pull yourself to that peak, conquer one of New Zealand's Great Walks, for there the mystic beauty lay waiting, and yourself you will thank for doing something that will live in your memories forever.
For the climax of our tramping adventures, we chose the Routeburn Track, traversing 32km of beautiful backcountry terrain through both Fiordland and Mount Aspiring National Park.
During the Great Walks peak season (October-May), reservations are required for the huts and campsites you use during your trek, costing $45 and $10 per person a night respectively. Huts and campsites are free during the non-peak season (June –November) operating on first come first serve basis. There is no pressure to complete the tracks in a defined amount of time, so many tracks accommodate a wide range of itineraries, allowing you to thoroughly enjoy your backcountry experience. For example, we chose to complete the Routeburn in 3 days, staying in huts for 2 nights. Additional huts on the track are available, allowing you to extend your track up to 5 days if you like, staying at each hut only once. Alternatively, many have tight schedules and opt to complete the Routeburn in 2 days, although I wouldn't recommend this option since it erodes the very experience you are attempting to enjoy in the first place. Total accommodation cost per person, $90.
For many walking the Routeburn track, Queenstown is a great place to establish as your base of operations, or your point of entry. The Routeburn is not a circuit track, thefore the start and ending points are different. The drive time between the two points is 3-4 hours, often necessitating transportation arrangements. Although the Routeburn is a two way track, meaning you can walk in either direction, it appeared that most trampers started at the Routeburn Shelter and ended at the Divide, the two endpoints of the track. The Routeburn Shelter is conveniently located about 45 minutes from Queenstown, which is one reason why it is so convenient to come through Queenstown for your Routeburn trek. Plenty of transportation companies are available and well advertised in Queenstown, getting you to your desired starting point, and home from the ending point with no hassle. Prices between different transportation outfits are competitive and cost around $110 per person roundtrip. All options we evaluated allowed one to choose their starting and ending point, and included several drop-off and pick-up times throughout the day. We were picked up at 8:00 AM from our accommodation and dropped off at the Routeburn Shelter at 10:00 AM, although this included a couple of stops along the way. Many companies provide extras with an additional charge, such as a Milford Sound cruise or a stay in Te Anu, which is closer to the Divide side of the track. We chose to include a cruise in Milford Sound with our transportation, costing $169 per person. If Milford Sound is on your itinerary, this is a great option for the additional $59. In choosing the option for the cruise, our last day required an early rise, as that leg was going to require a 5 hour trek and we were scheduled to be picked up from the Divide at 1:30 PM. Total transportation cost per person, $169.
A second good reason for using Queenstown as a hopping off point for the Routeburn is the plethora of outdoor outfitters available to rent any gear that you may need, ranging from hiking boots to sleeping bags. As we certainly are not traveling with heavy hiking boots, we had to pick up a couple of items.
Hiking Boots – $5 a day x 3 days = $15 per person
Backpack – $5 a day x 3 days = $15 per person
Rain Jacket – $5 a day x 3 days = $15 per person
Rain Pants – $5 a day x 3 days = $15 per person
Although we do have our own backpacks, we have this neurotic notion of trying to keep them clean, and wouldn't conceive of getting them wet and muddy, so we rented. Despite that, there are two items, a backpack and hiking boots, that you should own, for personal comfort reasons, prior to your own trek. Rented packs and boots tend to be crap, and certainly aren't chosen for their comfort characteristics. During a trek, these will be your two pain points, so choose wisely. You will also need to take anything you need to eat and cook along the track. This includes pots, utensils, matches and so on. During the peak season, gas burners are available, as are running cold water taps. The water is supposedly safe to drink, but you can boil or treat if paranoid. Luckily, we have the campervan, and though not even close to lightweight, had all necessary cooking instruments. I think we were the only ones with a standard steel cooking pot (good lightweight gear is aluminum and designed for packing), but then again, some folks forgot theirs altogether, so we did pretty good for amateurs. Total rental gear cost per person, $60.
In anticipation of taking on one of the world's great walks, we came to the realization that it is also one of the world's most expensive, at ~$300 per person, but sadly, compared to everything else in New Zealand, this is a bargain. Lesson one in New Zealand tourism, nothing is free.
Sleep the night prior to our early morning departure to Routeburn Shelter was fitful at best, and any good doze off was preceded by ponderings of helicopter evacuation costs and logistics. When would Manali radio in the rescue? Would she even consult me, or do it secretly behind my back, colluding with the hut warden alone? But then again, I kept telling Manali as if repeating a religious Mantra, it will be easy, heck, the brochure practically calls this trek the "easy one". Lesson number two in New Zealand tourism, everyone can do it, but not really everyone can do it.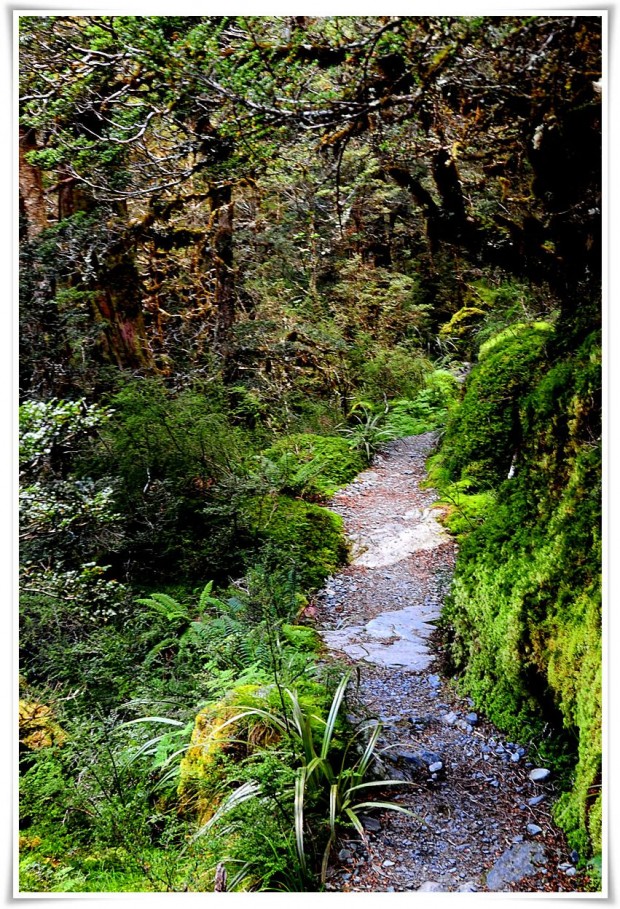 Was my technique of persistent persuasion working? Perhaps I was doing it for myself as well as Manali, for midway through our first day two questions danced incessantly in my mind – How much further is the hut? – Are we on the right trail? I repeatedly consulted the trail map, pulling it out, inserting it back into my pocket. Our first day started off through a beautiful beech forest, on a perfect day, the sun shining through the canopy of leaves with a gentle breeze to send the shadows dancing over ferns lining the forest floor.
| | |
| --- | --- |
| | |
For an hour we walked beside a river, flowing of water so clear you could read a business card resting at the bottom. Eventually our ascent came, and brought back flashes from our hike on the Great Wall near Beijing. Amid groaning and sarcastic cries of, "this is easy?", we finally made it through one of the steeper stretches climbing up into the Southern Alps, and arrived at Falls Hut, our accommodation for the night. Falls Hut is high along a mountainside wall, overlooking a beautiful valley lined by peaks that bend into the distance.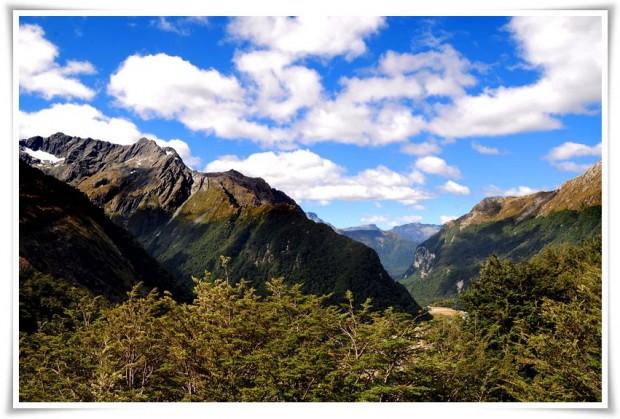 The long deck of the hut, and large windows of the communal kitchen provide wonderful views, while you allow your aching back and feet to recover from a hard days work. We quickly went to work on arriving at the hut to prepare hot tea and dinner. Gas cooking stoves are provided free of use at the huts, as is running water, but hikers must haul in everything else necessary. You must also take out all trash with you. Amidst the hurried preparations of other trampers in the kitchen, we managed to meet a couple of groups of great people. Reflecting back, that is one of the nicest aspects of such a trek, meeting wonderful people along the way.
Sleeping arrangements were better than we expected, with beds sectioned into groups of 4, arranged in a bunk configuration. We are both light sleepers, and earplugs may have added a nice touch, but we were too tired to find them in our bags, and despite the cacophony of snoring and rattles in the room with 22 other trampers we fell into a deep sleep rather quickly.
It was an early rise the next morning, and our ascent towards the peaks of the Ailsa Mountain Range and Lake Harris was no longer sheltered by dense beech forest. A biting wind accompanied our climb all the way to Harris Shelter. There is a popular side trip at this point up to Conical Hill, that offered amazing 360 degree views of the surrounding ranges and valleys. The climb up Conical Hill although steep only adds 2 to 3 hours onto your trek for the day, and is highly recommended. It is the highest point on the Routeburn Track.
Beyond Harris Shelter you begin a long descent towards Lake Mackenzie Hut, which reminded us a little of the service apartments in Liverpool.  Some of the must stunning views of the track are to be had along this stretch. The trail runs precipitously along the mountainside, running steeply to the valley floor below. Across the vast valley, stretching as far as the eye can see rises the next range, clear, unobstructed, tipped with snow. A view that leaves you feeling small and insignificant. Our long descent began, and after an hour or two through dense beech forest, we emerged out onto the Lake Mackenzie flat, spotting our hut and accommodations for the second night. At this point we were feeling exceptionally dirty, but with no showers to be had, we decided to take a cleansing dip into Lake Mackenzie, with some friends we met on the trail, Sarah and Troy. Having shed our two days worth of filth, the swim was worth every shiver. We savored our last night on the track, and enjoyed the fellowship of other trampers, huddled into the kitchen sipping hot drinks, sharing stories in the glow of a dimmed flash light.
| | |
| --- | --- |
| | |
On the final morning, we managed to set out on the track by 6:00AM, allowing us plenty of time to catch the bus to Milford Sound by 1:30PM at The Divide. Up to this point, the weather was idyllic, but a thick mist filled the air and a slight drizzle held steady for our first couple of hours down to The Divide. The last day of the track is within Fiordland National Park, and as a consequence of the heavy rainfall in this area, many waterfalls can be seen off the track.
As we crept ever closer to The Divide, and neared the finish of our adventure, a little pang of sadness crept into your hearts. Noise of vehicle traffic on the road far below can be heard, and you find yourself wincing at the realization that you are returning to reality. Although 3 days is certainly no eternity, it seems sufficient enough to lose yourself in this amazing and beautiful countryside of New Zealand.