There a few words that can describe the cutest, playful but moody monkeys that you will come across in Monkey Forest.
Beware that if you have any traces of food in your purses or backpacks, these pickpocket monkeys will find it and will not hesitate to give you a quick pat down!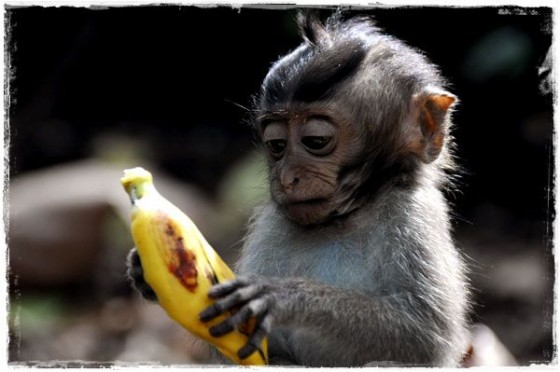 This huge park, ($1.50 per person entrance fee) houses approximately 600 monkeys and is located off its namesake, Monkey Forest Road, which is also the main strip in downtown Ubud.
You can buy bananas, sweet potatoes and other tasty treats for the rascals once inside and you'll be guaranteed the most popular human in the park, just be sure to watch those teeth!
You'll be amazed at the personalities that you come across, for example, a monkey with aspirations to be America's Next Top Model.
Or, a monkey with a cheeky sense of curiosity, searching for his reflection in the camera lens.
Or, a philosophical monkey, pondering the meaning of it all, and how to conjure bananas from tree leaves.