Thailand beaches are really relaxing and although similar, there are a few things that stand out in each that could make or break your beach time.
Ko Samui :: The east coast of Samui has the busiest and most developed beaches, lined with resorts and bungalows. The party beach is Chaweng, lined with restaurants and shopping. However, if you're looking for a quieter time, check out Lamai beach which still has a decent amount of activity, but slows down close to midnight rather than 3am. Some really nice upscale resorts, including the Four Seasons, are on the west side of the island but are rather secluded if you are looking to meet people and bar hop.
Recommendations :: If you get a motorcycle, drive around the island, see some of the local villages and check out the vast coconut fields in the middle of the island, over 2 million coconuts are exported to Bangkok each month!
Ko Tao :: A small clean island hugely filled with divers, surrounded by stunning waters and colorful corals and tropical fish. Lodging can tend to be expensive if you are not diving, but the diving is some of the best quality and cheapest in the world due to the competition. It's easy to walk the entire island and if you are not diving, the beaches are all yours during the day!
Recommendation :: Ban's Diving Resort www.amazingkohtao.com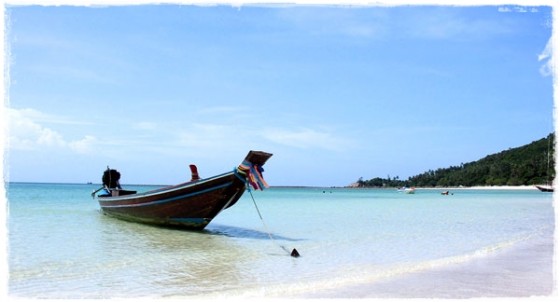 Ko Phangnan :: This is the true party island and is bumping every night with raves until dawn. Although the full moon party is the most popular, the locals have every excuse to throw a celebration and take your money, so have promoted Half Moon parties, Black Moon parties, Pre full Moon parties etc. Be prepared to be pushed, spilled on and shoved by drunk 18 year old Europeans.
Phuket :: Very commercial island and one of the most popular, with entire beach strips covered with restaurants, bars and 'ladyboy' / transvestite shows. Largely populated with tourists from all countries and a throng of US military soldiers passing through. Patong beach is the most popular and very common looking, compared to some of the smaller Thai islands. Lots of activites available from diving in the nearby Similan islands to jetskiing and eating delicious fresh seafood.
Recommendation :: "Recommendation :: Visit Simon's Cabaret with world famous dancing ladyboys who look spectacular! For a top notch but inexpensive place to stay, check out Marriott's Phuket Beach Club. Each suite is loaded with fantastic comforts like balconies, kitchens, laundry rooms and large living spaces.
Ko Phi Phi :: One of the more famous islands due to the movie "The Beach" being filmed there with Leo diCaprio. The island itself is dirty, crowded and touristy, with young Brits promoting the party of the night and happy hours of buckets of potent punch well into the night, so sleep is not a priority here. However, you can find some awesome snorkeling on neighboring islands (Maya Bay, Long Beach and Monkey Beach) and gorgeous white sand beaches on Bamboo Island, a short boat ride away. The limestone cliffs are also a sight to be seen.
Recommendation :: Check out the food stalls near the local market, serving up hot and fresh Thai dishes each night. Mr. Sammy's restaurant was delish and some of the proceeds go to the Tsunami relief fund.
Ko Lanta :: This chilled out, quiet, slowly developed island was one of our favorites. Great, low crowd beaches and slow paced life really allowed us to relax and have no worries in the abundance of beach front bungalows. Long Beach is one of the more popular beaches with beach front restaurants and reggae bars. Sala Dan, the port area has cheap souvenir and clothes shopping as well as activity sign ups.
Recommendation :: Check out the national park at the tip of the island for amazing water and sunset views, also Ao Mai Phai has a great bay and spectacular cliffs.
Ao Nang, Krabi :: A resort town filled with souvenir shops, western chain restaurants and Swedish families. We truly felt as if we were in Europe! An extremely clean and well equipped town for a quick rest, you can also find ample with organized tours of mangroves, limestone cliff jumping, windsurfing, fishing and diving.
Recommendation :: Take a short motorbike or taxi ride to the National Park area where you can swim through caves and grottos and beaches are spotless, backed by lush forests.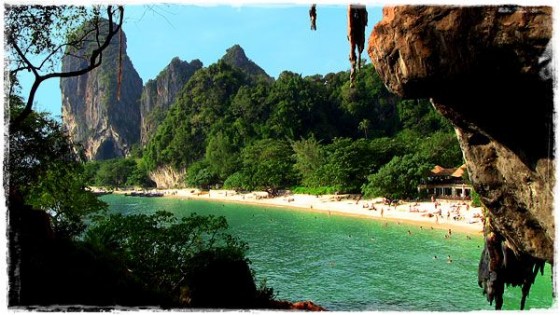 Rai Lei, Krabi :: Tiny beach peninsula, a short boat ride away from Ao Nang, is a mecca for adventurous rock climbing. The water on the east and west sides was dirty and polluated from the dozens of boats alongside the beach and was definitely not fit for swimming. Phra Nang beach (Cave beach) was by far the sweetest spot with pristine beaches, hidden caves and swim through cliffs.
Recommendation :: Watch the sunset from Sunset Beach. Duh.