We absolutely LOVE train travel in Europe! If you are visiting the continent, you won't get a true depiction of European lifestyle without taking at least one train journey.  A normal part of every European's routine, train travel doesn't have the typical stigma that most Americans think of when traveling without a car.  We are so dependent on our cars (especially in places like Atlanta where there is limited public transportation) that we neglect to explore other options.  Don't wait – buy your Eurail pass now!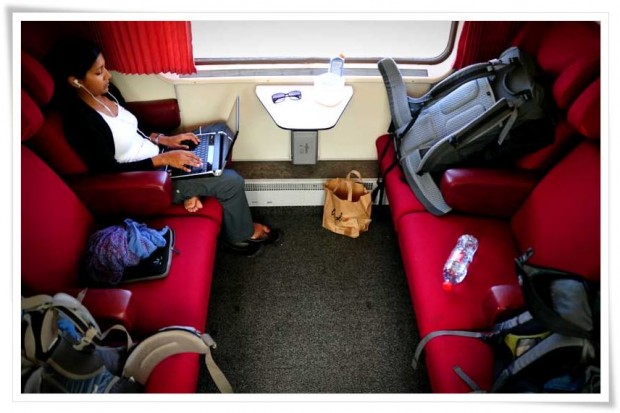 WHICH PASS SHOULD I BUY?
First step would be to plan a rough plan – how many countries will you visit? Are they neighboring countries? How long will I be traveling?
If you are only traveling to one country or going on one long distance journey, it makes more sense to buy individual tickets online or at the railway station. However, a Eurail pass may be a more cost effective solution for large groups or people traveling extensively between countries, especially in a short period of time.  Remember that traveling by train is usually faster than some short flights – there are hardly any security check in lines – you just show up 10 minutes before your train leaves and hop on!
Rail Europe has a great 'travel planner' tool that will help you decide if the Eurail pass will save you money and can help decide which ticket to buy.
Also, be prepared to pay reservation fees in some countries – although you have a Eurail pass, there is sometimes a supplementary fee to secure your reservation (marked with 'R' on train schedules). Trains in Spain all require reservations, regardless of distance, but other countries, like Italy, only require reservations for international travel.  You can also find this information on the Rail Europe website as well as on Seat61.com.  If you travel overnight, there may be some restrictions, you'll save on hotel stays –  and once you get to your destination, you can always book with the new online accommodation provider Wimdu to get the best bargains!
SO, HOW MUCH MONEY DID WE REALLY SAVE?
For illustrative purposes, we've charted our actual train journeys below and costs.
We show Terry buying individual train tickets in each rail station he visits versus Manali who planned ahead and bought a Eurail Global Adult Flexi Pass, 1st class, 15 days of travel within 2 months for $1052 in April 2010.
Note: Prices are based in US Dollars (as of August 2010) and Manali's cost of each journey is determined by taking the entire cost of her Eurail Global pass divided by 15 journeys in 2 months; costing her a fixed $70 per journey.
We saved approximately $600 per person on our total travel throughout Europe with our Global Eurail pass!
HINTS AND TIPS
Buddy up to buy Saver tickets (discount for 2 people or more) rather than two individual tickets
Traveling international saves more than traveling locally (Manali actually overpaid for her first 3 journeys in Italy)
Traveling in Eastern Eruope is generally cheaper than Western Eruope
For your first day of travel, be sure to get your pass validated at a ticket office and only fill in days of travel once you are sure you will be on board! Mistakes will cost you an entire travel day!
High speed trains are usually more expensive (such as Eurostar Paris to London in 2 hours – wow!); so if you have time, relax and enjoy some slow train travel!
Be sure to buy your train reservations in advance in the summer and periods of high travel or festivals – seats do sell out for popular journeys!
We saved over $600 each with our passes; the only other investment is taking the time to figure out if it works for you – if money is no object, get the pass and save some hassle!