Our return to Thailand from Singapore, our second visit after a first go around of 4 weeks, left us a fresh 30 day visa. As it turned out, we would spend the remainder of our time exclusively at Thailand's beaches, having already experienced Bangkok and Chiang Mai.
Cultural sites and excursions are limited, leaving the main attraction…beach life, and the consequential mood of relaxation, peaceful slumber and general lethargy quickly invades any prior routine you may have established. Simply put, for the previous month we have endured quite bravely the lifestyle of beach bums.
If you have ever wondered about a day in the life of beach bums, below is an example of what we have been up to for the majority of days for the last month or so in Thailand.
9:00 AM – Wake up
9:30 AM – Eat breakfast (usually cereal or granola bar)
10:00 AM – Take a dip in the ocean, explore the beach
12:00 PM – Eat lunch (PB&J with chips), drink a fresh fruit smoothie (current favorites are watermelon, pineapple or banana)
1:00 PM – Take a nap
2:00 PM – Read a book (currently reading "Shantaram" by Gregory David Roberts and "The Favored Child" by Philippa Gregory; we go through from 3 to 8 books a month!)
3:00 PM – Drive your scooter around town, shop, run errands to the post office, laundry and grocery store.
5:00 PM – Body-surf some waves
6:00 PM – Watch the sunset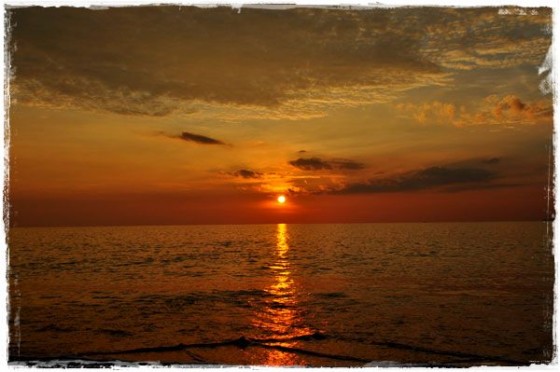 6:30 PM – Eat dinner (usually Thai food, sometimes pizza or Mexican)
7:00 PM – Socialize with new friends and fellow beach bums while having beers at a beach bar (Thanks for coming out all the way from Dubai, Beccah Boo!)
10:00 PM – Retire for the night and do it all over again
It's a hard life.